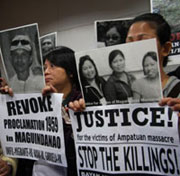 On November 23, 2009, 57 people - 32 of whom are journalists - were massacred in Ampatuan, Maguindanao province in southern Mindanao. The massacre caught international attention because of the large number of journalist killed in a single incident and the direct involvement of elected officials, police and militiamen.
While the prime suspect, Datu Andal Ampatuan Jr., has since been detained following his arrest and is now facing trial for murder, the other 197 people allegedly involved were only included in the charge of murder on February 5, 2010 after the Department of Justice (DoJ) resolved that they should be taken for trial.
The filing of charges against the perpetrators is part of the lengthy and tedious process of ensuring the perpetrators are held to account. Seeking legal remedies in the Philippine's system of justice had been perpetually undermined by way of political interference, excessive court delays and failure by the prosecutors and investigators to ensure that the cases they are pursuing are effectively prosecuted.
This campaign website seeks to document, to conduct follow up and to provide insights as to how prosecution of cases involving violation of rights takes place within the Philippines' criminal justice system. It also seeks to illustrate the plight and difficulties of the families of victims in seeking justice for their loved ones.