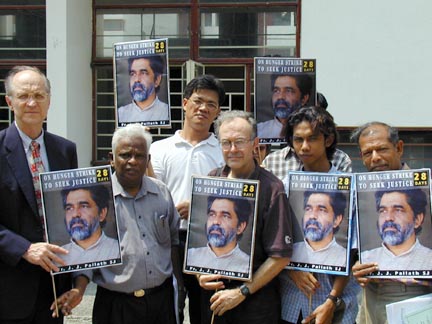 Today AHRC representatives visited, Rev. Fr. A. Deignan, SJ the local Jesuit superior Ricci Hall,University of Hong Kong to request his intervention on the case of Fr. Pallth, at this crical stage of the hunger strike.
AHRC made following requests from him.
--> For him to express concern to the Jesuit superior general in Rome on the basis of the information made available to you;To draw attention to the call by a senior priest in Kerala, Fr. Kottukapilly, who has recently said: "I have been unsuccessfully searching for the last two years for a modicum of justification in the manner in which my superiors have been treating Fr. Pallath. Theologically, canonically, as per Jesuit constitution and as per principles of natural justice, there is absolutely no justification for what we are doing to him. Silence at this juncture, when every effort to make the Jesuit authorities see reason seems to be failing, will be a crime against my Christian faith and against my Jesuit calling." "My struggle," he continued, "is not so much for Fr. Pallath as for the Jesuit order itself, to redeem it from the deep abyss of inhumanness and injustice it has fallen into.";To draw attention to the request by Fr. Pallath for a review of the decision against him;To draw attention to the agreement made on Oct. 28, 2000, by the local Jesuit superiors with Fr. Pallath that has been disregarded by them;To draw attention to complaints of physical abuse against Fr. Pallath and the arrest of his two sisters; To draw attention to the need to provide for a person&'s livelihood when that person has been dismissed after being in the order for 35 years.
AHRC letter states that "We believe that all of these requests can be acceded to without being compromised in any way.We also draw your attention to the fact that the Asian Human Rights Commission (AHRC) has written 20 letters to the superior general of the Jesuits in Rome and has sent several other communications to him. Presently, there has not being any reply to any of these letters.We believe that the matters in Fr. Pallath&'s case are so basic that there is not only a right
but also a duty to help to resolve these matters when they are brought to the notice of any person. These are not just local matters but are basic human issues.

YOU MAY MAKE SIMILAR VISITS TO JESUIT HOUSES IN YOUR COUNTRY AND MAKE SIMILAR REQUESTS. WHERE THAT IS NOT POSSIBLE YOU MAY MAKE THESE REQUESTS IN WRITING. AT THIS CRITICAL STAGE, SUCH INTERVENTIONS CAN BE VERY HELPFUL.
Posted on 2002-06-07